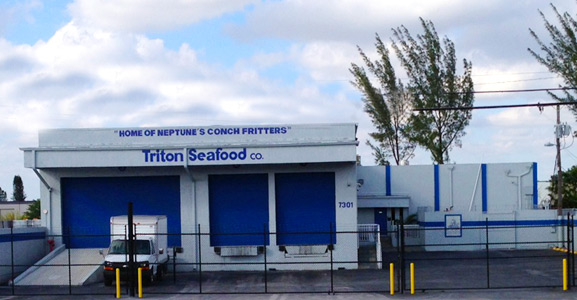 Triton Seafood
Triton Seafood Co., established in 1987, is the manufacturer of Neptune's products. The idea behind Neptune's products was to create a line of products that were the best in the market. To do that, we manufacture all of our products without any additives or preservatives. All of our ingredients are fresh, natural and picked to our specifications.
The greatest distinction of Neptune's conch products is that they are made with only Lab Tested Fillet of Queen Conch (stombas gigas). As the largest conch user in the US, the conch we buy is packed to our strictest specifications; therefore we can guarantee that the conch we use is not only the best available in the market but always consistent.
Early in 1989, we began selling our conch fritters to the food service industry. All the major food service distributors in Florida now carry our products. Sysco Food Services, PFG and US Food Service also carry them nationwide. In 1997, we began selling several of our products in the retail market.
Since then, our line has expanded to include bisques, chowders, and other fritters including Cod and Shrimp and Crab. We also have the most extensive line of conch meat products available on the market, including chopped, ground, and tenderized conch.
Because of our dedication to quality, we have received recognition as having the best quality products on the market. Our products have received the "Chef's in America Gold Medal awards, and have recently been featured in "Food Finds" on the Food Network.
Newsletter Sign Ups
Order Your Table Tents