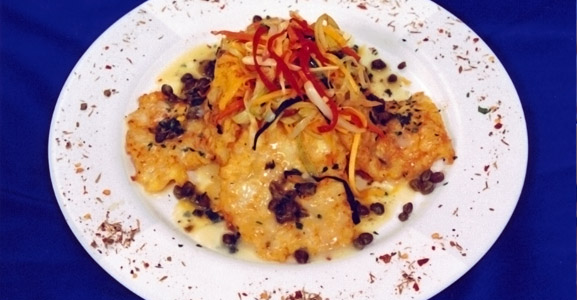 Conch Francese
½ lb tenderized conch fillet, cut into thin slices
Salt & pepper
1 egg
3 tbsp lemon juice, divided
1/4c flour
2 tbsp butter
1tbsp vegetable oil
1/3c chicken broth or dry white wine
Instructions
Lay pieces of tenderized conch on a platter or piece of waxed paper. Season lightly on both sides with salt and pepper. In a shallow dish or pie plate, beat the egg until light with 1 tablespoon of lemon juice. Scatter the flour on a plate or a piece of waxed paper.
In a large heavy skillet, over medium high heat, heat the butter and oil together. When almost hot enough to fry in, dip a piece of the conch into the egg then into the flour to coat lightly on both sides. Add the coated conch to the skillet and fill up the skillet with 1 or 2 more pieces. Sauté quickly on both sides (less than a minute total). Remove to a platter. Repeat until all the pieces of conch are sautéed.
Add remaining lemon juice and broth or wine to skillet. Boil vigorously, stirring with a wooden spoon to dissolve any pan browning and to reduce to a light sauce. Spoon sauce over cooked conch. Serve immediately. Serves 2.
Newsletter Sign Ups
Order Your Table Tents